PICTURE POWER!




Digital Photography Tips to Ignite Your Inner Superhero Photography Genius



---
You know you have it in you. Deep down inside you know that you are a Superhero Photographer. 
Welcome to Picture Power where we train photographers to become more than picture takers. We train photographers to become picture power superheroes! Powerful, I mean really powerful, picture makers. Here, you will learn how to create pictures that can literally change the world simply by showing everyone else how you see things.
Picture Power is all about you. It's about your epic journey to harness the amazing powers of perception within you. It's about your personal journey to master every superhero photographer's tools (your camera and lens!) and how to manipulate others into seeing the world the way you do.
Peter Parker has his bedroom. Batman has his cave. Superman has his fortress of solitude. And you have Picture Power. The one place you can be alone with your thoughts and master the superhero photography genius within you that is screaming to come out. Picture Power is your hideout to thrive in your pursuit of photography perfection.
---
The Epic Struggle
At the center of every photograph lies the epic struggle for the one thing that makes all photography possible: light.
Photography is an eternal battle between you, your tools and light. When you seek to master this medium in order to gain precision over picture mayhem you enter into a world dominated and controlled by light.
Bow before The All Powerful Light!
---
Ready To Add Power To Your Pictures?
Here's some of what you'll find on Picture Power:

You can even share your own photos.

Hello there fellow photographer. I'm Scott Umstattd, the creator of Picture Power. That's me and my side-kick wife near our hideout at Lake Atitlan, Guatemala.
---
Your Journey Begins Now!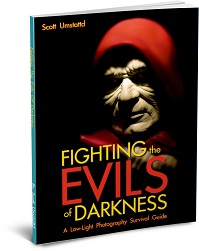 Download Fighting the Evils of Darkness: A Survival Guide to Low Light Photography. It's free. Absolutely, positively free! This guide is your first step in understanding how to make the most out of the least when it comes to light. When you download Fighting the Evils of Darkness, you will become a member of the Superpower Photo Club and gain access to exclusive and powerful digital photography tips that will skyrocket your skills.
---
Table of Contents
The Picture Power Blog keeps you up-to-date with all latest photography news, tips and articles added to the Picture-Power.com Web site. Subscribe here!
Ever wonder why some pictures are stunning and yours are just "okay"? HDR photography is an amazing digital photography technique that can transform dull pictures into works of art.
The test of a good photographer is not how well they shoot in good light, but how they handle a low-light situation. Here are some basic tips on shooting low light digital photography.
Wedding photography is a great way to earn some extra money with your camera. Here are some top wedding photography tips to consider if you don't want to ruin someone's day.
Raw vs JPEG is examined in this article with the author revealing his top five reasons why RAW rules.
DSLR's aren't just for shooting great photos. Learn some top DSLR video tips that can transform your DSLR camera into a superpower filmmaking machine.
Learn about exposure, how (and when) to take great landscape photos, the basics of composition and much more in these 10 excellent digital photography free tutorials.
It's taken me ten years to put together my perfect collection of digital photography gear. Here's my complete Canon 60D gear list.
The Canon 60D is a mid-level DSLR. It is not as cheaply made as the Canon T2i/550D. And, it does not have the full frame sensor that the Canon 5D Mark III has. Check out my full review...
Canon Lens Reviews: The Canon EF 200mm f/2.8 II IS USM lens is certainly not the right lens for every occasion. But when it is the right lens to use, it brings back incredible results.
Canon Lens Reviews: The Canon EF-S 15-85mm f/3.5-5.6 IS USM lens provides a great focal range and consistently returns sharp & colorful pictures. Learn why this is the only lens you may ever need.
Need to know if the Canon EF 50mm f/1.8 II Lens is the right lens for you? This is one of the lenses in my camera bag and here's how I use it. Explore more Canon lens reviews.
Photography is the epic struggle between man, his machine and light. To understand digital photography basics, meet the 3 photography superheroes helping you battle the all powerful light villains.
If you're just getting started in photography, here's one digital photography technique where you can't go wrong. Digital photography technique auto mode.
How has digital photography changed photography? Did the digital photography revolution destroy the idea or the concept of photography as a profession? Let's dive into digital versus film photography.
Are you baffled by all the digital photography terms? Here's a quick and easy explanation to get you started.
Learn about Picture Power and how we share the best digital photography tips.
Contact us here at Picture Power. We're excited to hear from you!
We all start somewhere. My digital photography timeline begins with the Canon D30, then the 30D and now with the Canon 60D. What's your journey?
Are you stuck in a creative rut? Can't find the mojo in your photos? Here are some creative photography ideas to help you step outside of your normal photography comfort zone.
Got a question about your camera, taking pictures or digital photography in general? We're here to help, so go ahead.. ask a question!
Photo sharing is fun! Do you have a favorite photo you've taken? Why is it your favorite? Share it here and browse favorite photos from other photographers.
It's fun looking at weird photos. We've posted a few of our favorites. Do you any weird, odd or strange photos you'd like to share? Upload them here!
---