What's In My Camera Bag?


Canon 60D Gear List 



Digital Photography Equipment To Get Outstanding Photos On A Budget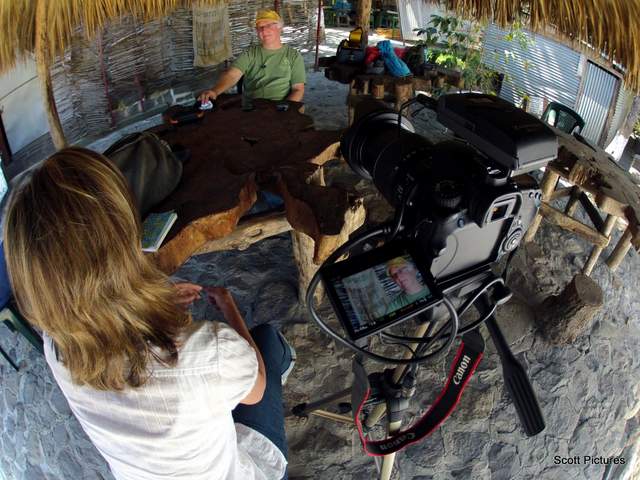 Picture taken with a GoPro Hero
By Scott Umstattd
---
My Canon 60D Gear List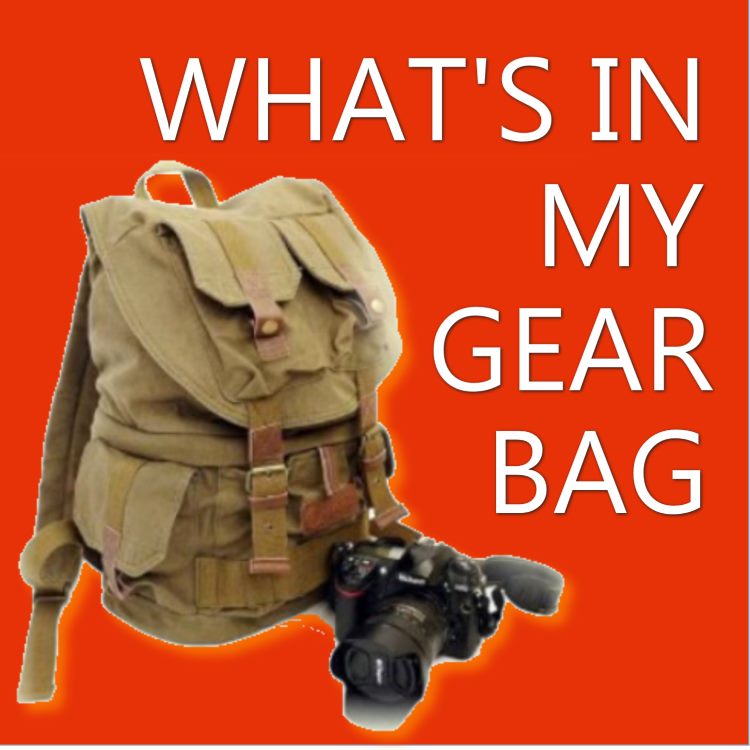 It's taken me over ten years to put together my collection of photography gear.  The Canon 60D is my third Canon DSLR.  And while I am enjoying it now, I know at some point, we will part ways. Either I will drop it off a cliff or it will simply stop working because I am the kind of guy that would hang his camera off a cliff to get a picture.
Of course, if money were no object, this list would look a lot different (better lenses, more gadgets, etc).  But I'm a photographer on a budget, so I choose the best gear that I can within my budget.
The Canon 60D gear list below is the result of years of researching, agonizing and finally choosing what I felt was best for my situation.
Since I shoot both photos and videos with my Canon 60D, I've also included below my video gear.
A lot of the work I do as a photographer (and videographer/producer) is for non-profit organizations, so most of my jobs require a lot of "run and gun" and "documentary/news" type photos/videos.  
I don't tend to set up lights, so I don't own any (except for some beat up tungsten lights that were donated to me) and one extra flash.  
I will take a picture of anything and everything I see while I'm out and about -- whether it's a beautiful sunset, a unique pattern on the ground, a fly in my soup or an interesting street scene.  I pride myself on keeping it simple and only taking gear that is absolutely necessary.
So if you're looking to fit your studio into one portable bag of digital photography equipment, I hope my Canon 60D gear list below provides some sense of inspiration or guidance.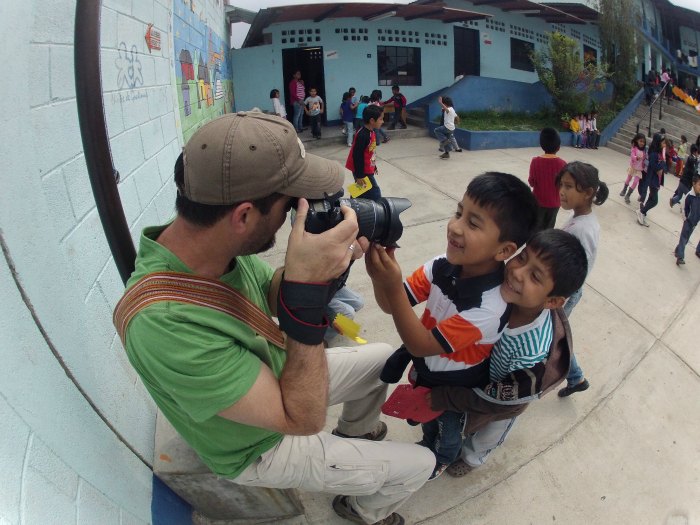 Full Canon 60D Digital Photography Equipment List: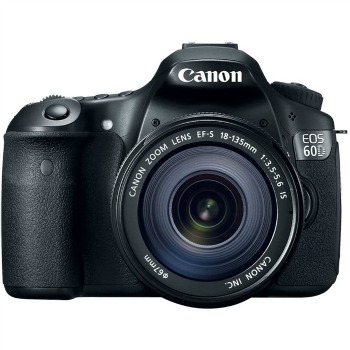 Canon 60D - This is the centerpiece of my Canon 60D gear list.  It can shoot photos, it can shoot videos.  I've never owned another brand of DSLR camera. I have no idea if a Nikon or Sony sensor is any better than a Canon. From my Canon D30 to my Canon 30D to the Canon 60D, I've had no beef with how any of these cameras performed. Each one is better than the next. Read my full review of the Canon 60D.
Canon EF 200mm f/2.8L II USM (Lens) - I love this lens. I wanted a minimum 200mm zoom.  I've taken some amazing portraits with this lens. I will likely have it forever. It is, however, limiting in that it is a prime lens. But then again, what makes is special is that it is a prime lens. It's more compact that its 70-200mm zoom siblings which comes in handy in public surroundings. Also, that it is a black lens and not a white lens is a benefit to me. No need to advertise that I have thousands of dollars worth of gear in my bag. Read my full review of the Canon 200mm f/2.8L II USM lens.
Canon EF-S 15-85mm f/3.5-5.6 IS USM (Lens)  - This is the work horse. This lens is on the Canon 60D 85% of the time. The range from 15mm to 85mm is incredible. It is not L glass and therefore it does not cost $3,000. The image stabilization really helps make up for the f/3.5-5.6 aperture. When zoomed out to 15mm I can see some vignetting in the corners, especially in sky pictures. With a couple clicks this is taken care of but it does speak somewhat to the lens' limitations. Read my full review of the Canon 15-85mm f/3.5-5.6 IS USM lens.
Canon EF 50mm f/1.8 II Lens - I read on a post years ago that everyone should have the Canon EF 50mm f/1.8 lens. So, I bought one. Here's why you should buy one too. They cost $100. You get a lens that opens up to f/1.8. The pictures look good. However, the lens is plastic. So, don't drop it after you buy it. Read my full review of the Canon 50mm f/1.8 II lens.
Canon EF 12 II Extension Tube - Money well spent. The Canon EF extension tube is another little device that brings in a big picture for little damage to the wallet. For under $100 you can turn all of your DSLR lenses into macro lens. The extension tube sits in between your lens and the camera. By doing this the lens is moved away from the camera and this magnifies the image. It is not a macro lens. The extension tube lets you zoom into small things that otherwise your lens would not be able to focus on. A neat item to have in the field that brings a unique perspective to the story.
Yongnuo YN560 IV - This is a great external flash. It costs under $100 and does what it is supposed to do and it does it well. It feels well built and worthy of more than its inexpensive price point. I don't use a flash that much but when I do this one does the trick. Did I mention it was under $100?
Pearstone Off-Camera TTL Flash Cord (This is also discontinued.  The Vello Flash Cord is very similar).  Yeah, when I was using the Sigma flash, more often I used the Pearstone Off-Camera cord so that the flash didn't hit people (or my subject) head on.  Being able to hold the flash anywhere in the air with one hand to control where all that light goes helps tremendously to make for more even and natural lighting.  But, since I don't use my Sigma flash anymore, the Pearstone Off-Camera Flash Cord sits next to it in a drawer.
Velbon Sherpa 538 Tripod  (This tripod is discontinued.  A similar tripod is the Velbon Sherpa 600RF) - A good tripod costs money.  The Velbon Sherpa 538 is not a good tripod.  But it is a tripod.  It works well for photography but it is terrible for video.  It has a cheap tripod head.  To get beautiful pan and zooms and camera motion for video, getting a nice shot is hard to do with this tripod (maybe they improved things with the 600RF). I want the Manfrotto 755CX3 M8Q5 Tripod.
Gary Fong Puffer Pop Up Flash Diffuser - This is another small item that can help to control the amount of light (and the light temperature) for your DSLR in-camera flash. It helps to warm the light up a bit so your subjects aren't  hit with too much blue light. In-camera flashes normally suck. This diffuser helps to unsuck some of that flash. But don't expect miracles. It will warm the flash light up a little and it may reduce the amount light that actually makes it to the subject.
Vello RS-C1II Wired Remote Switch - This is a great tool to have around when I do night or any kind of long exposure photography.  Since my tripod is not a great tripod, I run the risk of causing camera shake when I press the shutter (even if the camera is on the tripod).  Like I said, it's not a great tripod.  The wired remote switch lets me press the shutter from 5 feet away without actually touching the camera and causing it to get shaky.
Transcend USB Multi-Card Reader for SD Card - this is nice.  It helps to speed up the file transfers to the computer.
2 Pearstone Batteries - batteries that work.

2 Memory Cards - memory cards that work.
Black Rapid RS-5 Camera Strap - this is a nice strap. It offers more support for my camera and it allows it to rest in an area where I can easily find and use it, right off my hip.
Camera hacked with Magic Lantern 2.3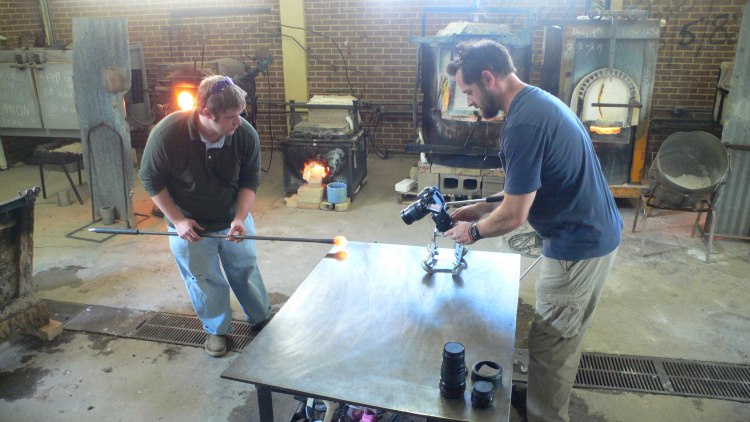 Extra Gear and Accessories
GoPro Hero2 - This has nothing to do with the Canon 60D other than it's an awesomely cool camera that complements my 60D.  It's tiny, it's waterproof (when in its waterproof casing) and it shoots quality fish-eye photos and videos.  This may be one of my favorite photo toys of all time. You can read my review of the GoPro Hero2 and also get some GoPro Hero photography tips if you are so inclined.
Audio-Technica AT897 Shotgun Mic - this mic brings in great sound for me. If I want to capture nat sound, oftentimes I will turn to this shotgun mic. 
Sennheiser EW 112P Wireless Mic - (I actually own the EW100 G2, but it is no longer in production.  The latest Sennheiser lav mic at this performance/price point is the EW112 G3)  Another great microphone.  This wireless lav set up allows me to conduct interviews in practically any surrounding.
Zoom H4N Portable Audio Recorder - This has become a must-use for all of my audio recording needs. While I can get web-ready audio by plugging my external mics directly into my Canon 60D, the Zoom H4N takes the audio to a professional level that performs well when played on DVDs and anything else. If you are shooting video with your DSLR, consider this handy little unit.
XLR Audio Cable - not sure how to grade XLR cables... these work great!
3.5mm Mini Male to 3 Pin XLR Female for my Canon 60D this is the magic connection that makes so much happen. My shotgun mic and my lav both utilize XLR connectors. The audio jack into the Canon 60D is a mini jack. XLR will not fit into a mini jack. But with this little cable I can turn an XLR input into a mini input and use my two external microphones. 
Collapsible Light Reflector - When you don't have lights, you have the sun. This two-sided reflector lets me bounce white light or gold light back onto my subject during a video interview. This is really the only time I use the reflector. But it can be a real life-saver in the field when you cannot set up lights but have to find or redirect light.
LaCie Rugged 1 TB Portable Hard Drive - LaCie makes the best portable hard drives. 


Above: This is the video I was making in the picture above. It was shot entirely with my Canon 60D. I used my Canon 15-85mm f/3.5-5.6 IS USM, my Canon 50mm f/1.8 II and Canon 200mm f/2.8L USM lenses. You can see the 200mm and the 50mm sitting on the corner of the table.


---
What's YOUR superpower digital photography equipment list?
Want to share your Canon 60D gear list or other equipment list with the crowd?  Please send it to me via the contact page and I'll get it posted.  


---
Camera and Lens Reviews
---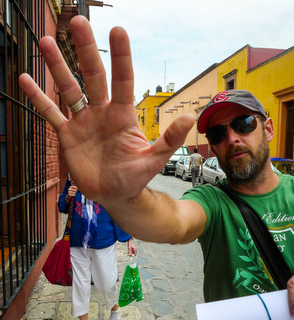 Hi there! I'm Scott. PTMY. Photography is a constant challenge and there is always something to learn - if you want to learn.  For those that do want to learn, I created Picture Power as a resource for you to sharpen your photography skills. If you don't find the answer you're looking for just let me know and together we'll find a way to ignite your inner superhero photography genius. Contact me
Return to the About Page from Canon 60D Gear List
Return Home from Canon 60D Gear List
---
More from picture power
---
---
photography lesson plans pack