My Most Powerful Picture
By: Chris deMatte
---
When someone is asking you "Which is your favorite picture?", you can easily answer with Imogen Cunningham's words:  "The one I'm going to take tomorrow." But when I was asked to share a picture that holds significant meaning to me, it was far more complicated to choose one...
---
Photo Credit: Chris deMatte
Last year, I was invited to photograph at the "Step Forward!" Festival in St. Petersburg, Russia. This is an international creative festival for children with disabilities, one of the largest worldwide. I spent four days making pictures of young artists during their repetitions, masterclasses and on the stages of various concert halls. All of them absolutely amazing and very talented.  And all of them had a disability. 
They were blind, deaf, were depending on a wheel chair, on crutches, had to be guided to their instruments by the conductor.  Blind violin players, deaf dancers,  a ballet group of children with Down's Syndrome, Rock'n Roll dancers in wheel chairs... It was an amazing experience.
And then there was this boy. Seven or eight years old. Bright, lively, high spirited. Couldn't resist a piano, whenever he found one he at once sat down and started playing. And he liked to sing. He was full of music.  And he is congenitally blind...
And this blind boy is sitting on the stage and is singing a song written by himself. The title: "Life is good."
One has to reassess his own priorities from time to time…
---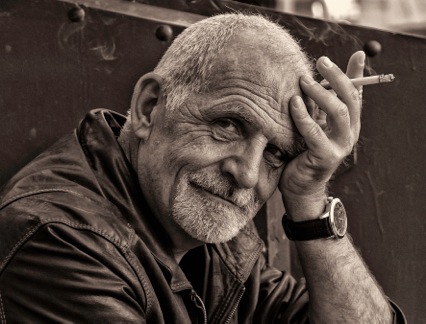 Chris deMatte
A photographer for 30 years now (got my degree in photography from the "Grafische" in Vienne in 1984) but still faszinated by the possibilities this black boxes called "camera" are giving you to catch the light and your imaginations...
Homepage: www.chrisdematte.com
Blog: cdematte.blogspot.co.at
---
My Most Powerful Picture - About This Series
For photographers, reviewing, editing and critiquing their own work can be one of the most difficult and mind wrenching parts of the job. Photographers understand everything about their pictures. And that often means that photographers may like a picture because of how hard it was to get the shot or because of what happened before or after the shot was taken.
We often like, or dislike, our work for reasons that go beyond what our viewers will ever know. Through this series of articles, photographers are sharing their stories behind what they feel are their most powerful pictures.
Visit the My Most Powerful Picture homepage to see more photos and stories.
To submit your most powerful picture, contact Picture Power.
Be sure to leave a comment through Facebook below.
---
More From Picture Power
---
Camera and Lens Reviews
---
---
More from picture power
---
---
photography lesson plans pack